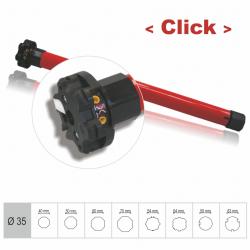 Advantages at a glance:
• Easy mechanical setting of the limits on the motor head with setting screws
• Permanent preservation of the limits in case of power failure
• Simple and speedy assembly through clippable motor head
• Maintenance-free with a long life span
• Thermal overload protection
• 5 year warranty on faultless performance
• Silent running
• A retrofitting with various different emitters from heicko is also possible
• Also available with a reduced length (item no.: HRK6010-13)
Technical data is available on www.heicko.de.
HR-Series
The motors in this series are suitable for 40's 60's and 70's octagonal shafts as well as 50's 54's 63's 70's 78's and 85's round shafts. This is possible due to the motors being available with a diameter of 35 mm and 45 mm. The improved clippable motor head ensures a simple and speedy assembly and is suitable for industrial use. Furthermore, the tubular motor is maintenance-free with a long life span and is equipped with a thermal overload protection system. The ease of mechanical limit setting combined with the silent running of the motor makes this model really successful.

Scope of supply:
• Mechanical tubular motor
• Pre-assembled adapter-kit for octagonal shaft
• Limit setting tool
• German manual and assembly instructions (other languages on request)

Suitable brackets for heicko tubular motors with clippable motor head are available in the category "Motor brackets"
---